mRo Control Zero OEM H7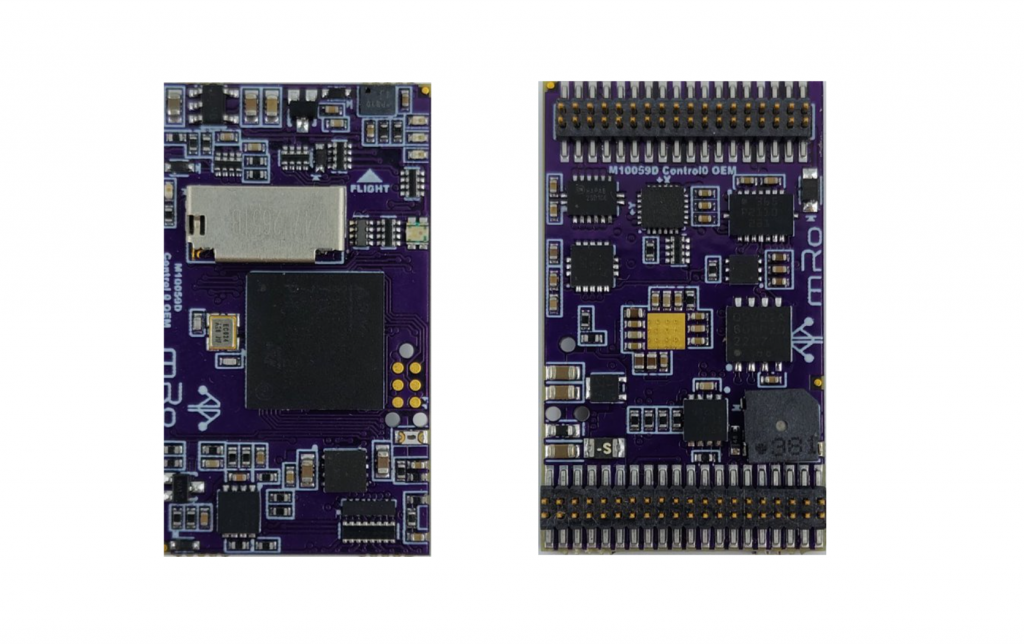 Specifications
Specifications
mRo Control Zero OEM
Main Processor
32-bit STM32H743 Cortex M7 core with FPU, frequency 480 MHz
IO Processor
No
RAM
1MB RAM
Flash
2 MB (plus 512kB FRAM)
Crypto / Hash Processor
Yes
Accelerometers / Gyros / Mags
Accelerometers / Gyros / Mags
Sensors
Invensense/TDK ICM-20602 (6DOF)
Invensense/TDK ICM-20948 (9DOF)
Sensors – Dampened
Bosch BMI088 (6DOF) (internally vibration dampened)
Internal Magnetometer
AK09916 inside ICM-20948
Barometer
Infineon DPS310 barometer (Very smooth and NO light sensitivity)
Interfaces and Protocols

6x UART (serial ports) [3x with HW flow control,1x FRSky Telemetry (D or X types), 1x Console & 1x GPS+I2C].

1x PPM sum input signal
8x PWM outputs (all D-Shot capable)
1x RSSI (PWM or voltage) input
3x I2C
1x SPI
2x CAN
1x SWD (TC2030 Connector)
3x Ultra low noise LDO voltage regulator

Supported RC input protocols:
Spektrum DSM / DSM2 / DSM-X® Satellite compatible input and binding.
Futaba S.BUS® & S.BUS2® compatible input.
FrSky Telemetry port output.
Graupner SUMD.
Yuneec ST24.

Connectors
-2x 18 1mm dual row header
-2x 20 1mm dual row header
Pin Headers
Yes
Conformal Coating
Optional
Extended Testing and Burn In
Yes
Custom Carrier Board Support
Yes
LED
Yes (RGB)
Dimensions
Width: 20mm (0.79″)
Length: 35mm (1.38″)
Weight
4.14g (.15 oz)
Mounting Holes
Yes
Protector Case
N/A
Thermal Case
Sold separately
Typical Platforms

-Multirotor
-Rover
-Fixed-Wing
-Boats
-Submarines
-VTOL
-Automatic Tractors
-Others

Electrical
5.25V @200mA recommended
Firmware
The mRo Control Zero is compatible with the following firmware:
ArduPilot
-Arducopter 4.x
-ArduPlane 4.x
-ArduRover 4.x
PX4
-PX4 1.13.x
Normal Usage Guide
The board comes with Ardupilot stable pre-installed. Bootloader is able to change between PX4 and Ardupilot's firmware.
Connectors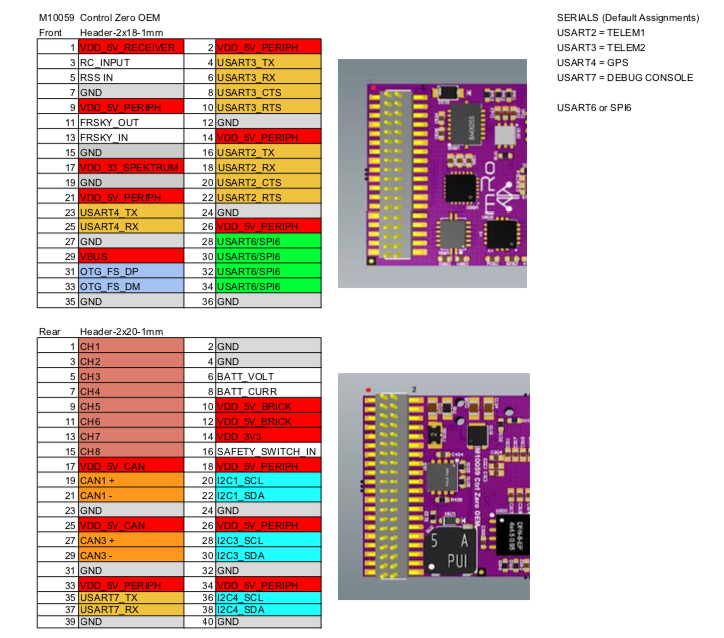 The front header is missing the labels for the SPI6 peripheral, please check the following table:
28 – SPI6_MOSI
30 – SPI6_CS
32 – SPI6_SCK
34 – SPI6_MISO
Tutorials
3D Model
Carrier Boards
We offer a variety of carrier boards to suit most use cases. Designed to ease integration with your aircraft or simplify prototyping and development phases. 
mRo Reference Design CB – M10066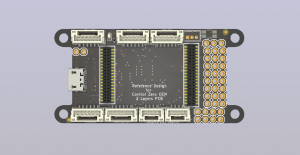 The reference design carrier board combines flexibility with a reduced footprint providing TELEM1 and 2, GPS, POWER and both CAN ports but also breaks out additional serial ports in 0.1″ headers as well as all PWM outputs. Support for an external power source to power peripherals is available using the solder jumpers at the bottom and the 0.1″ headers in front.
 – Dimensions: 63.8mm x 31.6mm  [2.51in x 1.24in]
 – Distance between holes: 57.6mm x 25.8mm [2.27in x 1.02in]
 – Hole size: 3.3mm [1/8″]
 – Weight: 4.5g [0.16oz ~0.01lb]
Store link: https://store.mrobotics.io/product-p/m10066a.htm
mRo_M10066B (STP file)
mRo 'Stick' CB – M10062

The 'Stick' carrier board loses a couple of JST-GH connectors to make it as slim as possible but still keeps the 0.1″ headers for PWM outputs and hast the most used ports such as GPS, TELEM1, TELEM2, POWER and both CANs.
 – Dimensions: 81.5mm x 20.8mm  [2.64in x 2.13in]
 – Distance between holes: 65.6mm x 15.6mm [2.58in x 0.61in]
 – Hole size: 2.6mm [0.1 in]
 – Weight: 4.9g [0.17oz ~0.01lb]
Store link: https://store.mrobotics.io/product-p/m10062a.htm
mRo_M10062B (STP)
mRo 'Prototyping' Zero OEM Adapter – M10060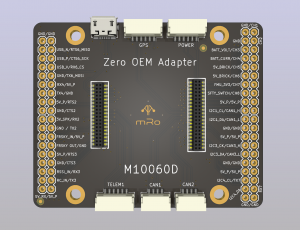 This board breaks out every single pin from the OEM H7 autopilot into a 0.1″ through-hole header, making it the most versatile carrier board but not exactly the smallest.
 – Dimensions: 67mm x 54mm [2.64in x 2.13in]
 – Distance between holes: 42mm x 46.4mm [1.65in x 1.83in]
 – Hole size: 3.2mm [0.13 in ~1/8″]
 – Weight: 11.8g [0.42oz ~0.03lb]
Store link: https://store.mrobotics.io/product-p/m10060b.htm
mRo_M10060D_Zero_OEM_Adapter (STP file)