mRo u-Blox ZED-F9 RTK L1/L2 GPS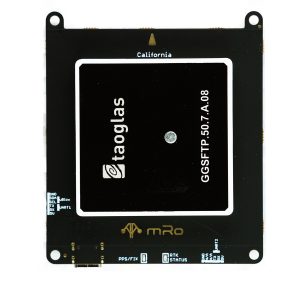 The mRo ZED-F9 GPS is a high-performance device capable of using all constellations simultaneously, including the more precise L2 band, making it the most precise GPS available today.
ZED-F9 GPS from mRo also features a sophisticated proprietary RF stage, which delivers high gain and high noise immunity compared to passive antennas. It also uses less space and weight than most active antenna counterparts and eliminates signal loss caused by u.Fl/SMA antenna connectors and long cables.
Specifications
Specifications
mRo ZED F9
Ground Plane
70mm x 70mm
Constellations
GPS (L1/L2) Glonass (L1/L2) GalileoBeiDou

Compatibility*

*See full compatibility chart for supported flighstack versions

No Compass
Compass
No
Barometer
No
RTK ready
Yes
USB Port
Yes (Type C)
CAN ready
No
Minimum and Maximum Operating Temperature
-20 ~ 80 °C
LED
Yes
Dimensions
70mm x 70mm x 14mm
Weight
59.6 grams (2.1 oz)
Mounting Holes
3mm
Case
Coming soon!
Connectors
-6-Pin JST-GH (uBlox UART1 + I2C)
-6-Pin JST-GH (uBlox UART2)
Includes
-1x mRo ZED F9
-2x 6-Pin JST-GH to 6-Pin JST-GH cables
Other Features
*Muti-Band: supporting both L1 and L2 bands
*Improved frequency selectivity and signal conditioning provided by the on-board LNAs + SAWs for both bands
*RTK capability
Firmware
The mRo u-Blox ZED-F9 RTK L1/L2 GPS is compatible with the following firmware:
ArduPilot
Arducopter 4.x
ArduPlane 4.x
ArduRover 4.x
PX4 
Usage Guide 
The GPS unit ships pre-configrued to work with Ardupilot/PX4 software out of the box if connected to the dedicated GPS port on any of their supported autopilot boards.
If the parameters of the u-Blox ZED-F9P module need to be modified for your use case please download u-Blox's u-center software and refer to its datasheets and usage guides to do so. 
Connectors
All connectors follow the Dronecode connector standards. Unless noted otherwise, all connectors are JST-GH.
Pinout
NOTE: Pinouts are from the Autopilot perspective
UART1
u-Blox UART + I²C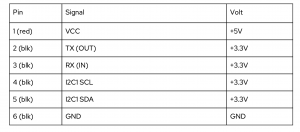 UART2
Same as UART1 but pins 4 and 5 are not connected (NC).
USB-C
ZED-F9P USB port.
3D Model
STEP file download->  mRo_M10020E