mRo x2.1 Rev. 2

Background/History of the Product:
The mRo X2.1 Rev. 2 is the reduced version of Pixhawk1 with better sensors and more flexibility. This board will "work out of the box" with PX4 and Ardupilot.
Pinouts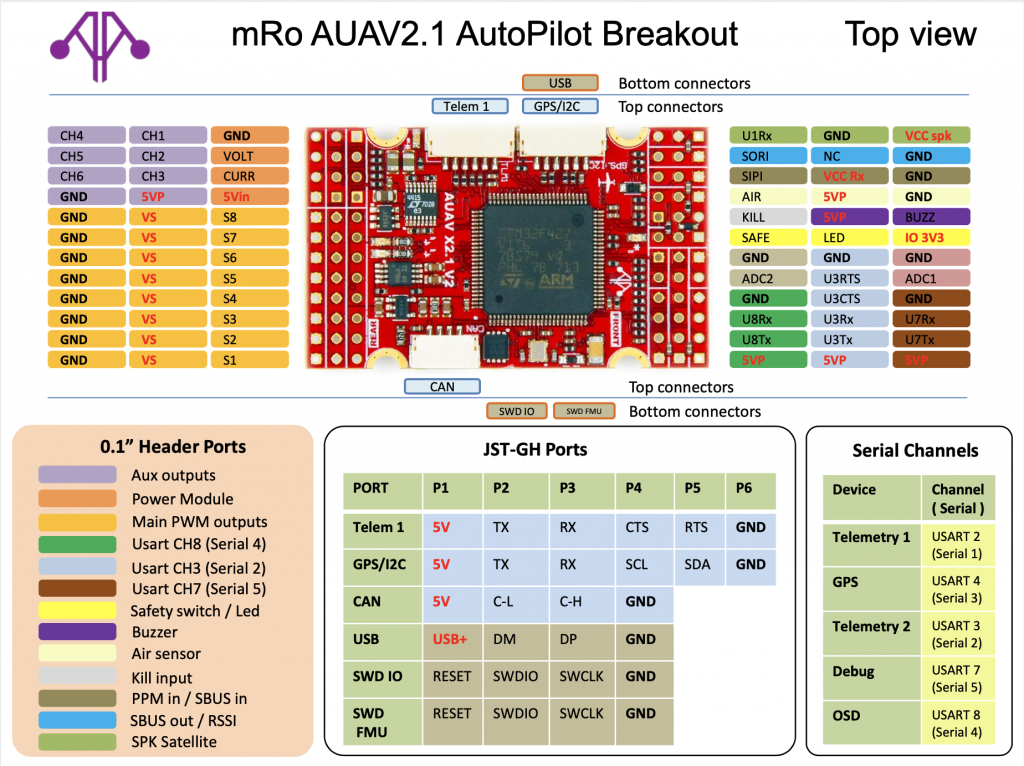 Specifications
Specifications
mRo x2.1 Rev 2
Main Processor
32-bit STM32F427 Cortex M4 core with FPU rev.3 168 MHz
IO Processor
32-bit STM32F103 failsafe co-processor
RAM
256 KB RAM
Flash
2 MB FRAM
Crypto / Hash Processor
No
Accelerometers / Gyros / Mags
2 / 2 / 1
Sensors
Invensense/TDK ICM-20602 (6DOF)
Invensense/TDK MPU-9250 (9DOF)
Sensors – Dampened
None
Internal Magnetometer
AK8963 inside MPU-9250
Barometer
MEAS MS5611
Interfaces and Protocols
5x UART (serial ports)[2x with HW flow control, 1x CAN].

1x PPM sum signal
14x PWM/servo outputs (8 with failsafe and manual override, 6 auxiliary, high-power compatible)
1x RSSI (PWM or voltage) input
1x I2C (Via GPS port)
1x SPI
2x ADC inputs

Supported RC input protocols:
Spektrum DSM / DSM2 / DSM-X® Satellite compatible input up to DX8 (DX9 and above not supported).
Futaba S.BUS® compatible input and output.
Connectors
-JST GH series connectors
-Servo Header (optional)
-External MicroUSB
Pin Headers
Optional
Conformal Coating
Available
Extended Testing and Burn In
No
Custom Carrier Board Support
Yes
LED
Yes
Dimensions
Width: 30.7mm (1.21")
Length: 51.2mm (2.02")
Weight
15.14g (0.53 oz)
Mounting Holes
30.5mm x 30.5mm (1.18″x1.18″)
Protector Case
Optional
Typical Platforms
-Multirotor
-Rover
-Fixed-Wing
-Boats
-Submarines
-VTOL
-Automatic Tractors
-Others
3D Model
Firmware
The mRo X2.1 Rev 2. is compatible with the following firmware:
ArduPilot
-ArduCopter 4.x
-ArduPlane 4.x
-ArduRover 4.x
PX4
PX4 V1.8
Normal Usage Guide
All connectors follow the Dronecode connector standard. Unless noted otherwise, all connectors are JST-GH.
Tutorials
First Time Setup
CAN Bus Setup
UAVCAN Setup
Advanced Configuration
Downloads